The DAWN Mentoring Program

DAWN provides long-term support to women recovering from the ramifications of domestic violence. This is done through a mentoring process, where volunteers are matched with a client and provide in-home social support, assistance with practical issues and companionship.
The program's focus is to improve the safety, confidence, and community connectedness of abused women (and their children), thus improving their mental health and their ability to manage their lives, their children and their capacity to contribute to the community. The program is designed to increase community engagement by strengthening ties between vulnerable women, trained volunteers, and local support networks.
The Federal Government Office for Women provided the funding and a Steering Committee guided DAWN through its first twelve months. Thirteen years later, there is a culture that guides and protects both the clients and the program in general, and DAWN has always been governed by a strong clinical focus and clear clinical goals and boundaries. DAWN sits under the umbrella of Doncare's Family Violence Prevention and Recovery program. Women can also attend psycho-educational support groups, be linked with a Doncare counsellor, and be offered practical and financial assistance through the Emergency Relief Program.
Doncare recruits women as volunteer mentors to provide weekly domiciliary support to women for a 12-month period. The women who become DAWN Mentors come from a wide variety of backgrounds. Over the years it has been found that over half these women have had experience themselves of domestic violence, either directly or through friends or family members. If you would like find out more about volunteering in DAWN, visit Volunteer at Doncare
Clients are referred by Family Support Workers, Counsellors, Emergency Relief Workers, women's refuges, other welfare services and police. The complexities of the work involve assessment of safety, mental health, and sometimes child protection issues, involving a wide array of services from police to legal and allied health professionals. Most of the mentors have helped clients to access services, including financial counselling, women's support groups, and children's services. They advocate for their clients with the Department of Housing, Centrelink, legal services and in locating services for their children. They will not only attend court with clients, but have attended parent teacher interviews, case conferences and VCAT.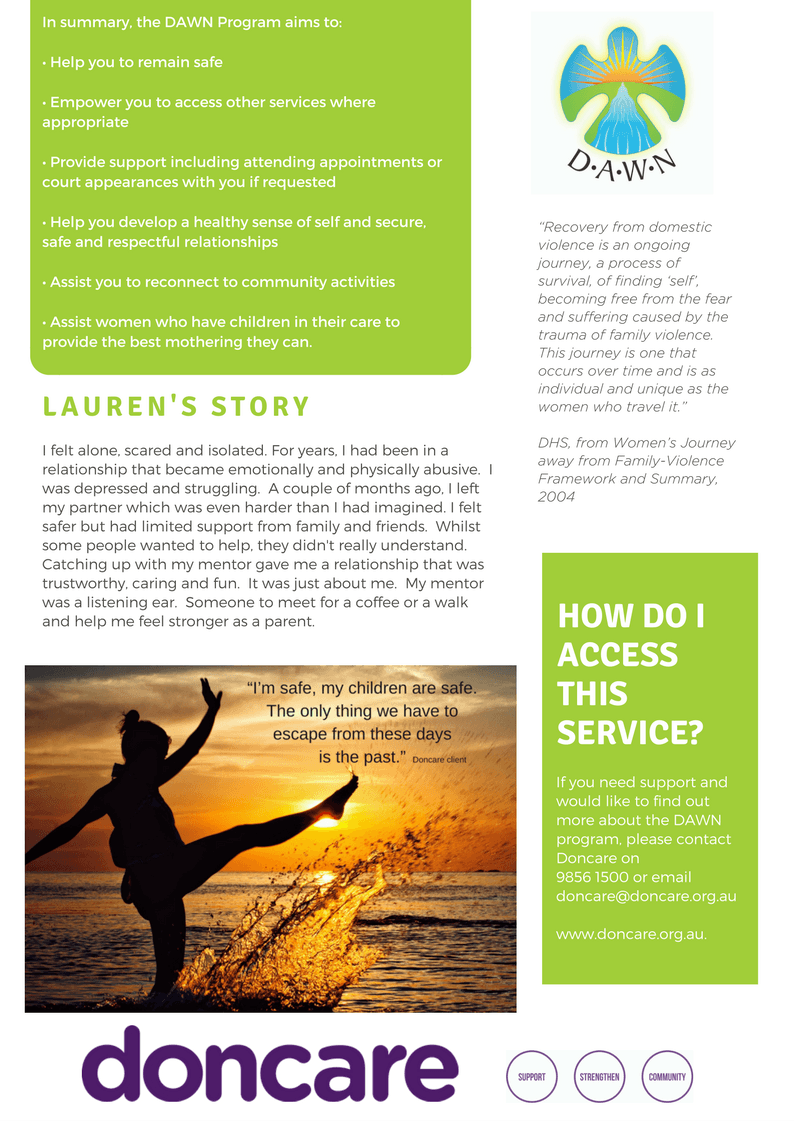 .
Call us on 9856 1500 to find out more about referrals into the DAWN Program.
The DAWN mentoring program is provided in partnership with Manningham City Council and The Ian Potter Foundation.
About The Ian Potter Foundation
The Ian Potter Foundation is one of Australia's major philanthropic foundations. The Foundation makes grants nationally to support charitable organisations working to benefit the community across a wide range of sectors including the arts, environment, science, medical research, education and community wellbeing. The Ian Potter Foundation aims to support and promote a healthy, vibrant, fair and sustainable Australia.
Read the evaluation of the DAWN Program's first nine years.