Since its inception in 1969, Doncare – Doncaster Community Care and Counselling Centre Inc. – has provided support to enhance the quality of life of people living in the Manningham and surrounding communities. Our main services include:
The majority of our services are delivered by volunteers; there are volunteers in every program including the team of around 300 who staff our 6 op shops, and on the Board of Management. Without the generosity and dedication of the volunteers, we would not be able to provide our services. Find out how you can get involved with Doncare.
Doncare receives funding from Manningham City Council, Department of Health and Human Services, State Government, several philanthropic trusts and foundations, revenue from Doncare's six opportunity shops, and donations.
Doncare is committed to adhering to the Victoria Government's Child Safe Standards which are embedded in our organisational culture and reflect our commitment to the safety and wellbeing of children and young people. Doncare also values the diversity of its community and provides inclusive services to people from culturally and linguistically diverse backgrounds, Aboriginal and Torres Strait Island communities, and people who are gay, lesbian, bisexual, transgender or intersex.
History
Doncaster Community Care and Counselling Centre Inc. (Doncare) officially opened its doors on 17 November 1969 with a staff of 22 volunteers. It was a time when there were many young families moving out from urbanised suburbs closer to Melbourne or from interstate. Problems of isolation and lack of public facilities began to dominate the thoughts of this increasingly urbanised population.
"Perhaps there could be special counselling for the young people."
To identify and determine the needs of these residents, the Interchurch Council of Doncaster and Templestowe organised community consultations with representatives of many organisations.
From the consultations, five ministers from the Church of Christ and the Templestowe Presbyterian Church were delegated with the task of "providing counselling service" with a trained worker. The service might be a referral service (such as Citizen's Advice Bureau) or it might be to provide decentralised counselling. Voluntary or lay counsellors might be specially trained as assistants.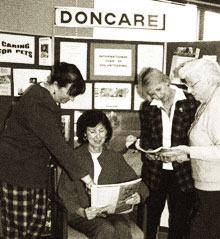 Doncare was located in the Tower at Westfield Shoppingtown until 2007 when the agency moved to Montgomery Street, East Doncaster. In August 2012, Doncare moved to the MC2 complex at 687 Doncaster Road, Doncaster.
Risk Statement 2018
In providing service to clients Doncare considers the most significant risk exposures and has developed a risk register to provide an outline of the approach to managing these risks. All strategic plans and work plans for program areas need to be consistent with this Statement.
Doncare faces a broad range of risks including those resulting from its responsibilities in the areas of service delivery including client safety and well-being, financial stability, and risks that arise from other day-to-day operational activities. Risks are managed through detailed processes that emphasise the importance of integrity, intelligent inquiry and ensuring the employment of high quality staff who understand and are capable of ensuring accountability.
Doncare makes resources available to control operational risks to acceptable levels. Doncare recognises that it is not possible to eliminate some of the risks inherent in its activities and that acceptance of some risk due to the nature of the services delivered to clients is a necessary component of service delivery.