Volunteering at Doncare benefits you and the community
Trained volunteers deliver the majority of our services and are Doncare's most valuable asset. As a volunteer, you have an opportunity to actively contribute and become involved in delivering our services and programs.
People volunteer for many reasons and in different ways. There is a great deal of satisfaction that comes from making a difference. You can work for a cause you are interested in or create change in areas that are important to you. You can build new skills and meet new friends. Whatever your motivation for volunteering, one thing you can be sure of is that you're enhancing the health and wellbeing of your community.
Do something that your future self will thank you for
Doncare's operational framework is predicated on volunteerism, with over 500 people volunteering across all of our program areas. If you would like to volunteer at Doncare, you can check out the positions available below.
DAWN Mentor
Are you interested in using your wisdom and life experience to help support women recovering from family violence? By offering companionship and support to mentor a woman who has experienced family violence, you can make a difference.
Women supported through the DAWN Program have found that regularly meeting with their Mentor can help ease their social isolation, build their confidence and improve their sense of well-being.
The DAWN program links trained volunteer Mentors to women recovering from the impact of family violence. The Mentors provide one to one support for one to two hours per week for up to 12 months. Mentors offer emotional support and a non-judgmental listening ear. Meetings may take place at the home of the women or an agreed alternative location.
As a DAWN Mentor, you will be fully supported by the DAWN Coordinator. Mentors take part in a two day training workshop and attend monthly meetings offering further support and training. The two days training includes information on the causes and effects of domestic violence on women and children and on strategies for offering support.
Mentors will have the following opportunities:
Professional training and ongoing support
Meet people from diverse backgrounds and experiences
Learn more about the impact of family violence
Participate in monthly meetings to learn more about the different support services available.
A mentor can provide a range of practical and emotional supports such as
going to a cafe for a coffee
going to a movie or a park
helping link in with other services helping access information and resources
visiting in the home
help with court visits
Volunteers are matched with the woman they will be supporting, according to interest and availability, usually for 12-24 months. During this time, the Mentor is supported by the Program Coordinator. Minimum age is 25.
Download the position description and application form.
Please forward your application to the DAWN coordinator. For more information, please call 9856 1500.
Doncare Community Visitors Scheme – Volunteer Visitors
Doncare's Community Visitors Scheme plays a vital role in providing companionship for older people who are experiencing loneliness or isolation.
Volunteers will be matched with and regularly visit an older person who is socially isolated and lonely either in their home or a Residential Aged Care Home. The visitor will connect with the Recipient providing one to one companionship and friendship.
Volunteers will be matched with a Recipient with similar interests or background as a starting point for building an ongoing connection.
Download the position description here. For more information, please call Helen on 9856 1500 or email doncare@doncare.org.au

iMatter Leaders – Doncare
Are you passionate about preventing family violence and building a community based on respect? If you are, join the iMatter volunteers. You'll have the opportunity to be trained in this field and join our highly motivated and passionate team. Become a young leader empowering young people to navigate their relationships safely.
The iMatter Program aims to empower young people to promote healthy relationships and recognise and respond to the signs of abuse in a relationship. The program trains leaders aged 18-26 years to run workshops in secondary schools, community organisations and sporting clubs to empower young people to build their self-esteem, respect and resilience.
The program aims to raise awareness and create change around societal pressures and social attitudes in regards to gender and relationships, learn the warning signs of an unhealthy relationship, understand the dynamics in a healthy relationship and learn how to support others and play an active role in the community to assist prevention of family violence.
Check out the position description here
Please email your application to the iMatter coordinator. If you have any questions, please contact Olivia on 9856 1500.
Delivery Truck Driver
Based at the Mitcham warehouse, this position involves driving the Doncare Op Shop truck, collecting donated items from the local area and delivering furniture to Doncare's six opportunity shops in the City of Whitehorse and the City of Manningham. Doncare is recruiting volunteers who are willing to commit to a 4 hour shift on a Tuesday, Thursday or Friday. As this role involves lifting furniture, physical fitness is essential. If you enjoy working as part of a team and have good communication skills, please apply. A standard car license is required. Download the application form here
Opportunity Shop Workers
Doncare is currently recruiting volunteers for our op shops in North Blackburn, Tunstall Square, Macedon Plaza, Templestowe Village, Bulleen Plaza and Jackson Court. If you've always wanted to be in retail or if you have a love of op shopping this could be the position for you. We also need volunteers for furniture pick-ups and deliveries, and for assisting at the Doncare depot with electrical tagging and testing, metal sorting and other interesting tasks.
Morning or afternoon shifts are available during the week and also shifts on Saturdays.
Volunteer duties include:
Assisting customers with selecting goods
Selling merchandise
Tidying clothes racks and shelves
Sorting of donations
Displaying goods
Keeping the shop presentation clean.
Skills and abilities required:
Punctuality and reliability
Good communication skills
Self motivated
Friendly manner
Volunteers are encouraged to bring their skills and knowledge to enhance the current team of volunteers.
If you are interested in volunteering at any of Doncare's shops, please download the application form. You can submit your application via e-mail or forward to Doncare. Please attention your application to Jenny McMahon, Manager Op Shop Program, Doncare. Suite 4, Level 4, 687 Doncaster Road, Doncaster 3108
Social Support Worker – Doncare
Do you have an interest in and compassion for older people? We're recruiting volunteers who want to help seniors stay independent and actively connected with their community. Doncare's Social Support Program offers opportunities to socialise for older people in independent living accommodation and with reduced mobility or a disability.
Social Support Groups meet in community venues six days a week, and offer a range of activities including walking groups, lunch groups, movie groups and more. Clients are encouraged to maintain their independence as much as possible.
The activities take place in many venues in Manningham and further afield.
Volunteers can use their own car, comprehensively insured, or a Doncare vehicle.
The duties are:
assist with social activities for older people
collect two or three clients from their homes, drive them to a community venue, support them during the social activity and drive them home again
provide support and encouragement to participants, enabling them to be actively involved in their chosen Social Support group
support participants to maintain control of their own decision-making
collect transport fees, food and drink payments
report any concerns you may have to the Social Support team
Requirements:
Current Victorian driver's licence
Police Check (Doncare will arrange)
Use of a four door sedan or station wagon, for those not using a Doncare vehicle
Respect for older people and their individuality
An ability to encourage older people's independence
Good listening skills
Willingness to work as part of a team
Willingness to attend information sessions
Time Required: Normally a four or five hour shift fortnightly, but shifts can be weekly or monthly to suit individual volunteers. Drivers are also needed to take clients to and from a Friendship Group on a Tuesday, but are not required to stay during the session.
For more information please email Helen MacKenzie or call 9856 1500.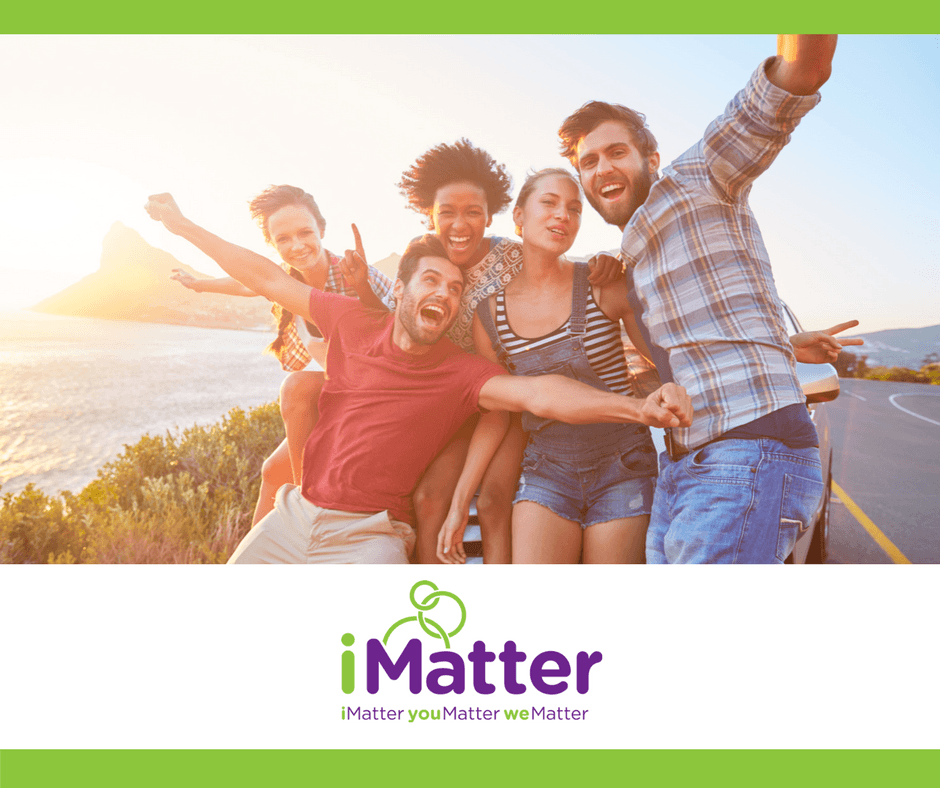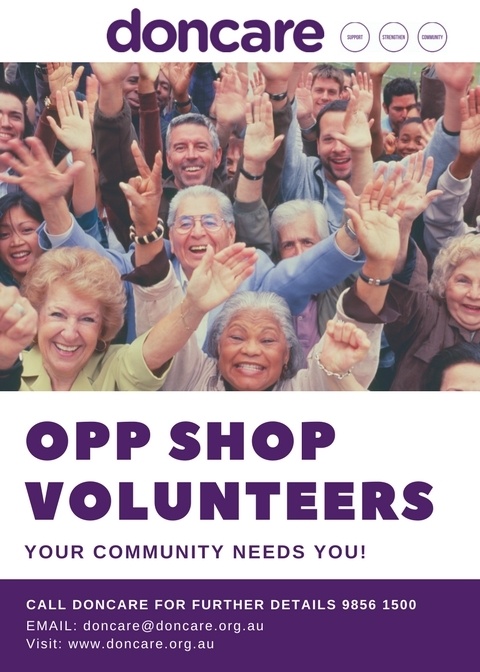 Read more about joining the chorus of volunteers in our Op Shop program