Young female and male leaders passionate about promoting healthy relationships
Doncare's iMatter volunteer leaders are aged 18-27 years and are making a difference to empower other young women and men to navigate their relationships confidently and safely. Doncare trains leaders who then go on to deliver school workshops to help young people to build self-esteem, respect and resilience; and to prevent violence and promote healthy relationships.  The leaders are trained to help raise awareness and create change around societal pressures and social attitudes, identify potential risks in relationships, recognise and respond to controlling and abusive behaviour, understand the dynamics of healthy relationships, and learn how to support yourselves and others who are experiencing violence.  
Call Doncare and ask to speak to Susan on 9856 1500 if your school would like further details about the in-school and community group workshops and presentations.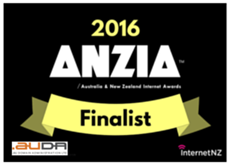 iMatter's domestic violence prevention app received a high commendation as a finalist of the 2016 ANZIAs (Australia and New Zealand Internet Awards).  The app was recognised in the Innovation category for initiatives that use internet-related technologies in a new and unique way to make a significant contribution to the social outcomes of a particular group or sector. The ANZIA's gala event award ceremony was held at the Regent Theatre in Melbourne on 30 August. 
ANZIA Award photograph: Kit Haselden Photography.